Huge volunteer energy and turnout for Governor Kate Brown ahead of the 2018 general election
Coalitions of volunteers across Oregon turned out for another phenomenal weekend of canvassing and phone calling to get out the vote. At one event in Portland, over 150 volunteers gathered to support Governor Kate Brown, and the line was out the door.
On issues ranging from the environment to workers rights to reproductive rights, Oregonians came out to show their support for Governor Brown and encourage others to vote. Together, volunteers knocked on the doors of over 106,000 voters since field efforts began. This weekend alone, volunteers knocked on more than 19,000 doors to talk to voters across the state. Grassroots support will continue to propel Governor Brown's campaign to finish the line.
A big crowd came together to canvass for Governor Brown and the No on Measure 106 campaign in Eugene this weekend.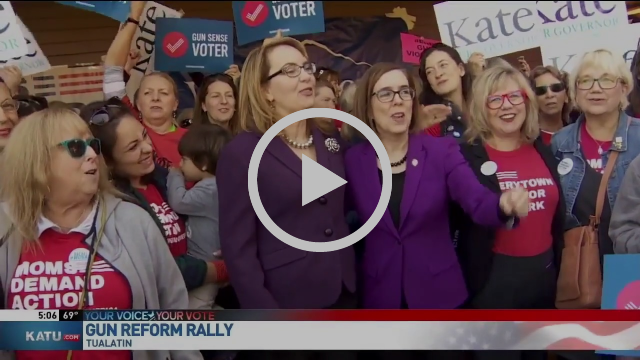 Governor Brown and former Congresswoman Gabby Giffords rallied with gun violence prevention advocates in Tualatin on Friday, October 19th. 
Governor Brown listens to speakers at Friday's rally with advocates for gun violence prevention.
Over 150 supporters and volunteers rallied to kick off a massive volunteer event in SE Portland on Saturday, October 20th. 
Governor Kate Brown makes phone calls to voters in Salem on Sunday at an event hosted by SEIU.
Governor Brown joins with volunteers at a labor union and working families event in Salem on Sunday, October 21st.
Senator Chuck Riley and Representative Susan McLain kick off a volunteer event in Hillsboro.
Treasurer Tobias Read speaks with volunteers in Oregon City ahead of their canvassing shift.
BOLI Commissioner-Elect Val Hoyle kicks off a crowd of volunteers for Gov. Kate Brown in Eugene.